Salisbury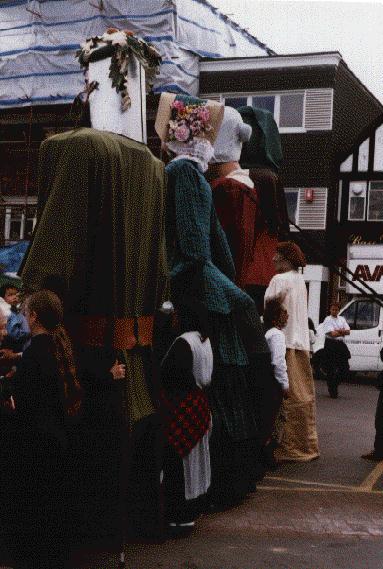 Salisbury Leisure and Tourism Dept. have never given gianters five star accommodation, we've never asked for it. Last year it was ridiculous.

&34;What's going on over there? (yawn)&34; The back row of the crowd at 'Riding the George' in Salisbury last spring.

For the last few years we've been given floor space in the Leisure Centre. It was bad enough the year that we were woken by a repulsively energetic aerobics class in the next room at 7.30am. It wasn't too bad the time the cleaners started up in the foyer at 8.00am. But last year they held a meteorology briefing for balloon crews at 6.00am in the midst of sleeping giant crews. Once they'd woken us they weren't at all keen to give us a cuppa either, even though they were serving balloonists; our breakfast was the concern of a different department, or some such nonsense.
It's no fun, especially if you have children in your group, to do a day's gianting work after a start like that.
Several giant crews were heard to swear they'd only go back again if they were given Hotel or B&B rooms for the night.
The event? Oh yes, it was a pleasant enough parade, there always seems to be a wind, but it was manageable. The crowds were dense but well behaved, and there was rather a lot of standing around doing little or nothing. It would have been a good start to the season; if we'd had enough sleep.
It would be a pity if the annual event foundered because of the way crews are housed. Indoor 'camping' can work if it's properly organised; Hastings somehow makes it work despite crowded conditions.
As for this year, we'll see. Some of us will be talking to the organisers before the event.