Giants in Huddersfield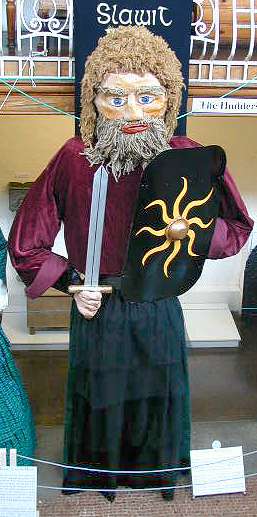 Created in 1985 Nathandriel is the oldest giant on display. He was built after Slawit Guise encountered giants on a trip to a European festival. He acquired his name when a disparaging bystander attempted to describe him as 'neanderthal' but mispronounced the word.
Nathandriel's frame is loosely based on a stool type of construction. Four long metal legs are inserted in a plate just beneath his neck and the rest of the giant is then attached. He is another well travelled giant having represented Huddersfield in Spain, Belgium The Netherlands and France as well as many events nearer home.
---
Site designed by Derek Moody.
Last updated 31st March 2000